The P&C holds several fundraising & community engagement activities throughout the year.
For 2023, these include:
Term 2:
Week 3, 2 May: WESS Open Day, Information Booth
Week 4, 10 & 11 May: Mother's Day Stall, Fundraiser
Week 5, Friday May: 19th, P&C Day, Special day
Week 9, June 16: Quiz Night, Fundraiser
Raffle, Fundraiser
Term 3:
Week 3, July 28th: OSHC Educator's Day, Afternoon tea
Week 4, Fri Aug 4th: Whole school Disco, Fundraiser
Week 9, 30 & 31 August: Father's Day Stall, Fundraiser
Term 4:
Week 2, 12th October: World Educator's Day, Breakfast for staff
Week 5, Fri Nov 3rd: Movie Night, Fundraiser
Week 5, Fri Nov 3rd: Tuckshop Day, Special Day
Week 9, December 1st: Volunteer's Appreciation, Morning Tea
Raffle, Fundraiser
All these events are organised and run by volunteers and our fundraising events help raise much needed funds required by the P&C to maintain the various services as well as making regular donations to the school. If we don't have enough volunteers then we can't run these events! We need everyone to help step up and pitch in. Reach out if you you help provide support.
For more information about fundraising activities or to offer your time, please email our Fundraising Liaison Officer, Katherine Bishop at fundraising@wesspandc.org.
You can make a difference – even if you don't have the time!
Donation of goods and services – Got a business that can donate something for one of our fundraising events? Please email fundraising@wesspandc.org.
Sponsorship of our events and activities – we are happy to offer a package of publicity and other opportunities in return for sponsorship of our events. Want to find out more?
Please email fundraising@wesspandc.org.
Donate your earnings from the Container for Exchange program at Tomra in West End. Just add our code C10044213 when you have finished adding depositing your containers.
Donations Appeal:
Queensland state schools are some of the most underfunded state schools in the country because the Queensland Government only provides 69.26% of the needs-based funding to state schools. WESS is especially underfunded given our large student cohort and increasing enrolment numbers throughout the year.
The P&C helps fill this funding gap with much needed in school resources, programs and facilities. We also generously provide financial assistance to students in need, ie school supplies, uniforms, tuckshop vouchers, school camps, extracurricular activities and more. We need your help!
Parents and carers of the school can also contribute through the P&C Voluntary Donations Drive.
How to Donate: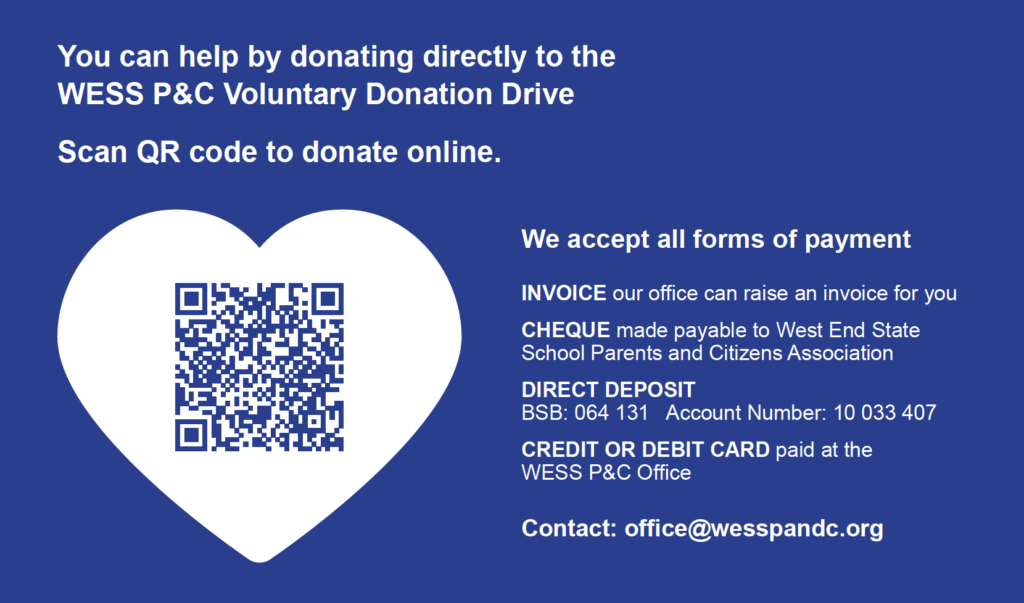 Community Engagement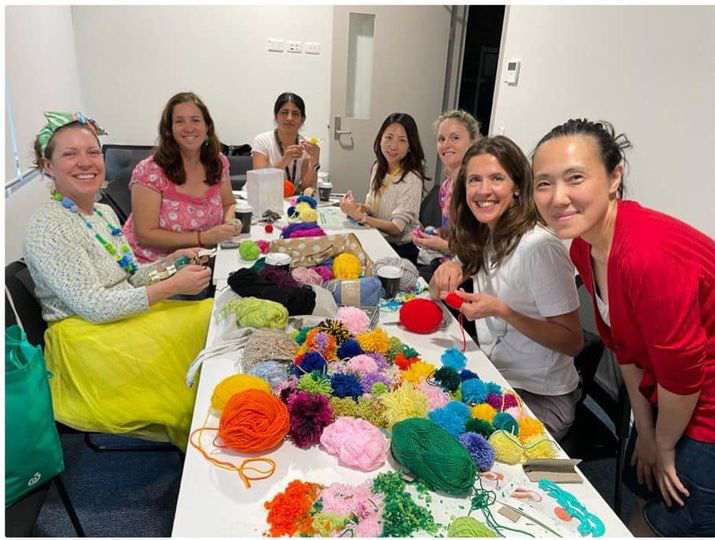 Community Engagement is about getting to know people and helping families to be part of the WESS community. The WESS Community is the heart of the P&C. The role of Community Engagement is to ensure families feel welcomed and are involved with the events and activities organised by the P&C and the school. At the WESS P&C, we want to include and embrace our diverse community.

Some of the activities we organise are:

Parent Rep Program – currently consisting of 42 parent reps across all grade levels. Representatives organise meet ups for families every term outside school time so families can meet and get to know each other. They also help welcome new families to WESS.

Community Craft Group – meet every Friday morning from 9-11am in the WESS P&C Office at M Block next to the uniform shop. Come along and learn or share a craft making skill. All welcome!

Community Chit Chat – Every 1st Wednesday of the month at the WESS P&C Café. Come and chat to members of the P&C Committee, the school's senior leadership team and meet other WESS parents. Learn about upcoming P&C events, activities and program and how you can get involved.

Contact office@wesspandc.org if you want to learn more about our community engagement activities.