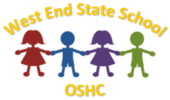 If you have any further questions or issues, and haven't been able to find an answer elsewhere on the website or in the FAQs, please contact the WESS OSHC office.
---
Does the school share information with you about my child?
The school and P&C WESS OSHC are separate legal and business entities, and are run separately. As such, the school does not necessarily share information with us regarding your child's medical, dietary, and developmental needs, changes in custody-orders, when they may be attending school-camp and so forth. So if any important information changes after you enrol with us, it is best that you let us know as well, so that we can continue providing quality care for your child.
---
Do children get picked-up from class to go to OSHC?
If you're child is a Prep, then they will get picked-up from class every afternoon by a staff-member. During BSC, Preps are also dropped off to their classrooms, and their teachers will have a weekly list of their Prep children attending BSC and ASC each day.
If your child is in Grade 1, they will walk themselves to and from class to OSHC. However, during the first couple weeks of Term 1, the Service will maintain additional supervision of Grade 1 children, until they are secure in the new routine and transition. Additionally, all Grade 1 teachers will have a weekly list of their Grade 1 children attending ASC each day.
---
It's my child's first day at the Service and they're not sure where to go…
Only Preps are picked-up from their classrooms in the afternoons; however, Grade 1 teachers do get a list of the children in their class going to after-school care. As such, if your child's first day at the Service is coming-up, we suggest that you come to the OSHC a couple of days beforehand, to show them where to come to sign-in.
Once your child gets to the Service, we usually pair them up with a friend from their class, to help show them around. A senior staff-member will also walk your child through where the water bubblers and toilets are, where they can put their bag, what activities they can do each day, and some simple rules of the service.
---
Do you provide kind of food or afternoon-tea?
Yes! This is included in the price of care as well.
ASC: Before beginning any afternoon activities, we serve a healthy afternoon made by our cook. Foods vary each day and may include salad wraps, quiche, healthy muffins and much more.
BSC: In the mornings we provide 3-4 different kinds of cereal, toast with spreads, and milk. Our current and upcoming menu is always available for parents to view, and aligns with National guidelines for children's healthy eating.
A copy of the weekly menu is always available in the Service multipurpose room.
---
My child is sick and needs to take a medication at the Service, can you help with this?
In following with the Queensland Health Guidelines, it is suggested that if your child is unwell they do not attend the service. However, if they have been cleared to attend by a doctor and require medication while attending WESS OSHC the following conditions must be met:
The medication is accompanied by a doctor's prescription and/or note outlining the child's need for the medication, and the medication's name, time of dosage, amount of dosage, and method of administration;
The mediation has a doctor's/pharmacist's label with the mediation's name, time of dosage, amount of dosage, method of administration, expiration date, and the names of the child and prescribing doctor;
The relevant 'WESS OSHC Medication Authorisation Forms' are completed at the Service.
---
Someone new is picking-up my child today, how should I let you know?
If you are ever unsure of who is on your authorised pick up list, please email the service, and we can inform you. If you need to add a new person to you pick up list permanently, please ask a senior staff member for the form. The new person will also have to bring photo ID for staff to check against the pick up list.
If you only want someone else to collect your child on particular occasions without being permanently added to the pick up list, then you will have to email the Service each time you want that person to collect your child.
If your new pick up person might have difficulty using our electronic sign in/sign out system, either because they have trouble with technology, or English isn't their first language, please let us know via email, so that we can help them out when they come.
---
Can my child do Extra-Curricular Activities at OSHC?
At OSHC we are happy to accommodate your child doing Extra Curricular Activities (ECA) at the school while attending before or after school care. This will require parents completing and returning an ECA Permission Form and must be located on school grounds.
While children are at ECA, they are not the responsibility of OSHC, nor are we responsible for booking or running any extra curriculum activities. If you are interested in any ECA activities, please go to the West End State School website.
When children attend ECA however, we will take them to and from the activity – unless specified by a parent – and put aside afternoon tea if they do not have time to eat it before going to their activity.
OSHC Staff will not be able to escort children to or from an activity at 6:00pm as the service will be closed.
---
During Before School Care, can my child go to school earlier?
Yes. If your child in in Grade 1-6, you can authorise them to leave BSC early to prepare for school, go to ECA, the tuck shop, or any other reason, on a recurring basis. To do this, you will need to complete and return an ECA and Early Release Permission Form, and then staff will sign them out. If your child only needs leave early as once off, please inform a senior staff member, as we do not let children leave without parental authorisation.
As per the school's policy, Preps cannot be released earlier than 8:40am. Also, children in grade 1-6 can not be released from Before School Care before 8:15am unless attending a supervised activity.
If your child wants to leave before school early as a one off, because of a school camp or excursion, or they would like to participate in 'Active School Travel', please let a senior staff-member know that morning to organise it, and sign an Early Release register.
Once a child is signed in at the Service, they are NOT allowed to go back to their classrooms by themselves, because most of the school is unlicensed for OSHC use, and children cannot be unsupervised. As such, children will only be able to go to their classrooms with a free staff member if available.
---
Does OSHC provide spare hats or art-smocks?
Simply put, no. Due to space constraints as well as Health and Safety, OSHC has neither the storage space nor the on site washing machine needed for providing and washing spare hats and art smocks every day. When attending OSHC, it is expected that children will engage in both messy indoor activities, and active outdoor activities. As such, children are expected to bring their own hats; additionally, while we won't provide art-smocks, if parents pack one in their children's bags, we are happy to remind children to use them, if we are informed of this arrangement.