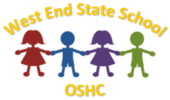 All fees are due on a weekly basis. For further information on how to make a payment, and how absences and the Child Care Subsidy may affect your weekly fees and account, keep reading below.
Enrolment Bond
All families are required to pay a bond of $100.00 per child (maximum of $200.00 per family) upon Enrolment. This bond is refundable once you have terminated your account with WESS OSHC, provided that all account fees have been paid, and you have given at least two weeks' written notice of termination, using the appropriate Termination of Enrolment Form; otherwise the bond may be forfeited to cover the costs of any outstanding fees.
Booking Fees
| | |
| --- | --- |
| Before School Care (BSC) (7:00am – 8:40am) | Cost |
| Permanent Booking | $18.00 per child, per session |
| Casual Booking | $22.00 per child, per session |
| | |
| --- | --- |
| After School Care (ASC) (2:45pm – 6:00pm) | Cost |
| Permanent Booking | $24.00 per child, per session |
| Casual Booking | $28.00 per child, per session |
| | |
| --- | --- |
| Vacation Care/Pupil Free Days (7:00am – 6:00pm) | Cost |
| Early-Bird Rate | $53.00 per child + Excursions/Incursions |
| Casual Rate | $58.00 per child + Excursions/Incursions |
Please Note: All fees/costs are subject to change with 1 month's notice.
---
Child Care Subsidy and Absences
As mentioned above, all absences for permanent bookings are to be charged and paid for in full. Furthermore, all absences for casual bookings are also to be charged and paid for in full, unless cancelled in time.
Under the Child Care Subsidy, each child is granted 42 absences per financial year that are subsidised by a family's regular CCS coverage. After those 42 absence days have been used-up, all absences afterwards are charged at full price. Please be aware that all absences from previous childcare centres will
Centrelink will not apply CCS to any absences where you have made bookings to reserve a space for your child(ren) who have not yet attended the service.
If you cancel bookings Centrelink will not apply CCS to any bookings that your child(ren) is absent after their last day of physically attending the service.
---
Fee Payments
Weekly statements are emailed out to all parents each Monday, including all bookings for the current and next week. All fees are due the week before care is provided.
If fees are not paid by the Friday of each week, the Service may call, email, or text parents to remind them of payments required. Temporary suspension of bookings – including losing your booking/waitlist space – may occur if fees are not received by Friday each week.
Vacation Care fees must be paid in full before bookings can be confirmed. Early Bird rates are available provided that bookings and payment are received by the due dates outlined on the booking forms.
Families can apply for a payment plan if necessary.
---
Payment Options
B-Pay:
Details available on the weekly statement.
Each family is provided with a unique B-Pay Customer Reference Number.
Direct Deposit into WESS OSHC's bank account:
WESS OSHC Bank Account Details are on the first page of your OSHC statement.
Please use your child's first and last name as a reference for your payment.
Please ensure you pay the fees into the WESS OSHC account, not the school's/P&C's.
Credit Card Payment Agreement:
Credit-card details are kept securely, and only accessed by senior staff-members.
Credit-cards are charged each Wednesday, and only the amount owing.
EFTPOS:
Available at the OSHC office or call to make a credit card payment over the phone.
We accept Visa, Master card and all Debit cards.
Sorry, no AMEX.
CASH AND CHEQUE PAYMENTS NOT ACCEPTED
---
Late Pick-Up Procedure (after 6:00pm)
If you are running late, please contact the Service and let us know the approximate time that you will be able to pick-up your child, or organise for someone else to pick-up your child. As per WESS OSHC Policy, two staff-members will stay back with your child until they are collected. If staff are unable to contact a parent or anyone on your Emergency Contacts List, and no-one contacts the Service by 6:30pm, staff will then be required to contact the Police to come collect your child. A late pick-up fee will also then be charged to the account (see above).
In the event of a late pick-up wherein parents do not sign-out their child on the electronic sign-in/sign-out system, a senior staff-member will then sign-out the child instead, and your account will be charged according to that time.
Additionally, due to licensing and regulatory requirements, if a family is late to collect a child on three or more occasions in any one school term, the Management Committee will be notified and a Letter of Warning will be sent from the Coordinator, to the Parent/Guardian. Continued or deliberate lateness may result in the child's enrolment at the Service being terminated, if deemed necessary.