When:
28/03/2023 @ 7:00 pm – 8:00 pm
2023-03-28T19:00:00+10:00
2023-03-28T20:00:00+10:00
Where:
Staff Room
N Block
West End State School
Enter Ambelside Street @ gate 12

Contact:
WESS P&C office
0730108281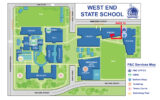 Please join us every second Tuesday of the month (Feb – Nov). Everyone is welcome to attend and to be involved in discussions at a P&C meeting, however, voting on agenda items is limited to members only.
Online meeting access via Bluejeans: Link: https://www.bluejeans.com/join-meeting?iesrc=ctr
(Then join the meeting). Meeting ID: 605 103 6401 and the participant passcode is 9928. In case of slow or bad internet connection, you can also dial in by phone: +61.7.3123.446
How to join the P&C?
Membership of the P&C is free and is valid from the time of signing up until the following AGM when all memberships lapse and will need to be renewed. Membership forms are available online and at every P&C meeting. To join, please come along to one of our P&C meetings or email your membership form to secretary@wesspandc.org.